More evidence for growth in Brisbane with commercial real estate for sale In Brisbane still active; for example a Tower has just become available in a Strong Office Market
A recently refurbished commercial office tower located in Brisbane's golden triangle will become available for sale this month.
Owners Fortius Funds Management and two BlackRock-managed private funds will test buyer demand for the 16-storey CBD tower, tipped to attract local and offshore interest.
The building, located at 201 Charlotte Street, was purchased for $81.5 million in 2015.
The A-grade office tower sits on a 1,839sq m site, providing 13,291sq m of net lettable area, and could attract interest for more than $130 million.
Anchor tenant Anglo American have recommitted to the building until 2028.
One of the attractions of 201 Charlotte Street is its anchor tenant, Anglo American, which is the third largest metallurgical coal mining company in the world, with a market capitalisation in excess of $40 billion.
The property sits close to all major CBD infrastructure projects in Brisbane, with $12.8 billion in developments located within a one-kilometre radius.
"This includes the Cross River Rail, which is 300 metres away, Queen's Wharf, which is 500 metres away and Dexus' Eagle Street Pier redevelopment, which is just 60 metres away.
Also located within Brisbane's 'golden triangle', the 10-storey Edison Exchange building, owned and home to Telstra, was also marketed last month.
Other recent Brisbane CBD transactions include the $52.25 million sale of 293 Queen Street to US property giant LaSalle in December.
Rockworth Capital Partners purchased a 17- storey office tower at 100 Edward Street, within the golden triangle, for $60 millionin an off-market deal last August.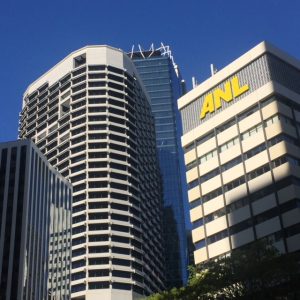 More activity in the Brisbane CBD with the announcement that the 10-storey Edison Exchange building in the heart of Brisbane's "golden triangle" precinct will be for sale for the first time.
Telstra developed the 10-storey commercial building in 1963, and currently owns the property.
The property will be sold with a sale and leaseback arrangement, with a seven-year lease, plus a one-year option to Telstra.
The building comprises 12,200sq m of gross floor area on the 1,675sq m site, and due to local planning is said to offer plenty of development potential.
With three-street frontages, the development potential of the site is significant.
The city centre zoning allows for no maximum building height and offers a multitude of development potential including office, hotel, retail and residential.
Reports estimate the building could be expected to sell for a price exceeding $75 – $80 million.
Part of Brisbane's history, the Elizabeth Street site has operated as a telephone exchange since the 1880s.
Up to 175 telephone services became available 24/7 in 1883 and it was manually operated until 1929 until switching over to an automated service.
Recent Brisbane CBD transactions include US property giant LaSalle's $52.25 million purchase of 293 Queen Street in December.
Rockworth Capital Partners acquired the 17- storey office tower at 100 Edward Street for $60 million in August in an off-market deal.
Charter Hall acquired a high-profile development site on Queen Street Mall for $93.9 million last July.
It is expected the 280 Elizabeth Street property to attract interest from both domestic and overseas buyers.
It will be sold via an expressions of interest campaign ending 28 February.
Commercial real estate agents in Brisbane are expected to be very active in 2019.
Development hasn't abated and the cranes on the skyline indicate plenty of offices coming on stream.

In breaking news for the Brisbane CBD, a Cross River Rail Priority Development Area below Albert Street has been declared for an underground train station
The Queensland government has declared a Cross River Rail Priority Development Area as it prepares to build a new underground station in Brisbane.
Treasurer Jackie Trad has announced the Cross River Rail Priority Development Area will support the delivery of the new underground Albert Street station.
The 220-metre long station will be built 31 metres below Albert Street, making it the deepest station of the $5.4 billion Cross River Rail development.
The station will provide rail services to the southern end of the CBD for the first time, with expectations around 67,000 people using the transport connection each week day by 2036.
The PDA covers two land areas on the corner of Albert and Mary Streets, with an Interim Land Use Plan to be in place while a development scheme is prepared for the site.
Deputy Premier and Treasurer Jackie Trad said the development is Brisbane's first CBD station to be built in 120 years.
Brisbane City Council's Albert Street Vision incorporates a 'green spine' that would run from Roma Street Parklands to the City Botanic Gardens to support the increase in pedestrian activity within the Albert Street vicinity.
Cross River Rail is a 10.2 kilometre rail line from Dutton Park to Bowen Hills, which includes 5.9 kilometres of tunnel under the Brisbane River and Brisbane City Centre.
When complete, it's anticipated a trip from Albert Street to Woolloongabba would take around three minutes.
Cross River Rail includes five new high-capacity stations at Boggo Road, Woolloongabba, Albert Street, Roma Street and The Exhibition, and is expected to be used by 164,000 daily passengers.
Trad says the infrastructure project will "unlock the bottleneck at the core of the transport network allowing more trains to run more often".
The community will have an opportunity to comment on the proposed development scheme for the Albert Street PDA when it is publicly notified in 2019.
In other recent news, US property giant LaSalle Investment Management has purchased a Brisbane office building for $52.25 million.
The real estate investment management firm bought the seven-story building at 293 Queen Street, in Brisbane's Golden Triangle, on a passing yield of 4.04 per cent and with a potential fully leased market return of 6.7 per cent.
Bloomberg Incorporation Limited owned the 5257sq m building, which is anchored by the University of Queensland, for almost 25 years.
The asset, constructed in 1928, is next door to the 26-story tower that LaSalle purchased separately last year for $153 million at 307 Queen Street, greatly expanding its Brisbane CBD land holdings.
Brisbane Office Tower Purchased by Charter Hall for $275 Million.
ASX-listed Charter Hall has re-entered the Brisbane's office market with the purchase of 61 Mary Street in the CBD for $275 million.
The 17-level office tower was sold by QIC Global Real Estate and will now become part of Charter Hall's unlisted District Office Fund (DOF) adding to a $1.7 billion real estate portfolio in assets under management on behalf of its high net worth and SMSF investors.
The property, which completed a $38 million refurbishment works program in 2018, is in the heart Brisbane's government precinct and is fully leased to the Queensland Department of Transport and Main Roads for a further 10 years.
The property acquisition is in line with Charter Hall's long-standing focus on assets with long-leased government and high credit rated tenants.
The Mary Street building also encompases some of the largest floor plates available in the CBD, between 1,525 and 2,030 square metres and sits on a rarely obtainable 3,646 m2 site while also holding a 5 Star NABERS energy rating.
"The office market is extremely strong for high quality long WALE investment assets, particularly leased to government and credit rated tenants," Charter Hall Office chief executive Adrian Taylor said.
"This investment extends the relationship the Charter Hall Group has with the Queensland Government as a tenant customer and further extends our significant investments in the Brisbane CBD where we are seeing improving market conditions and positive rental reversion drivers."
This is a sure sign that Brisbane's commercial real estate market and complements Charter Hall's recent $93 million acquisition of 40 Tank Street, a half share in B-grade office building Capital Hill at 85 George Street for $60 million as well as the acquisition of a property on Turbot Street on behalf of Singapore's GIC in May for $108 million.
The rate of development is also rapidly increasing, with Mirvac's $836 million development at 80 Ann Street and a $650 million office building on Queen Street a joint venture between Charter Hall and Investa gaining approval.
Charter Hall also purchased a high-profile development site for No. 1 Brisbane, a proposed 81-storey tower on Brisbane's Queen Street Mall which was granted approval in 2017.